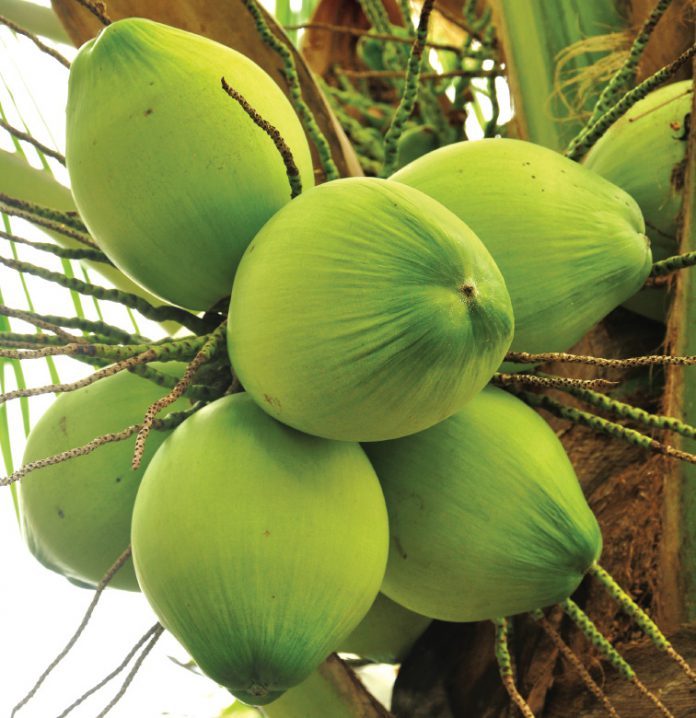 Lauded for its health benefits and the versatility with which it can be used, coconut is truly a superfood in more ways than one. Its meat is high in medium chain fatty acids and fiber while its water packs an electrolyte punch, good for those recovering from high-intensity exercise or high-intensity hangovers.
The coconut's products and byproducts – meat, water, oil, milk and butter – as well as the option to buy fresh or pre-prepared, services a never-ending list of coconut-related recipes. Here are four simple ways to use the resourceful drupe.
COCONUT MACAROONS
These bite-sized delights are a cinch to make. To make about 40 macaroons, combine 14 ounces of sweetened shredded coconut with 14 ounces sweetened condensed milk and 1 teaspoon vanilla extract. In a separate bowl beat 2 large egg whites with ¼ teaspoon salt until peaks form, and then fold into the coconut mixture. Place tablespoon-size mounds of the mixture onto baking sheets lined with parchment paper, and bake in the top half of a preheated 350 F oven for 25 minutes until golden, before removing and cooling. Dip the bottoms of the mounds into 4 ounces of melted bittersweet chocolate, and drizzle more chocolate on top if desired, before refrigerating to set.
COCONUT SORBET
*Note, this recipe requires an ice cream maker
For a cool homemade treat that satisfies coconut cravings, coconut sorbet is the way forward. Combine and whisk together 1 can cream of coconut, 2 cans coconut milk, and 1 cup coconut water (or plain water). Cover and chill in refrigerator overnight, or for several hours if time is tight. Once chilled, pour into an ice cream maker and churn for 20 minutes. Transfer to a sealed container and allow to set in freezer for 2-3 hours before serving.
COCONUT LIME PRAWN SKEWERS
Coconut, lime and shrimp are heavenly together, such as in these simple skewers. For 6 skewers, combine ¼ cup fresh squeezed lime juice, 2 tablespoons soy sauce, 1 tablespoon lime zest, 1 tablespoon rice vinegar, 1 tablespoon honey, 1 tablespoon chopped cilantro and 1 pound extra-large peeled and deveined shrimp in a Ziploc bag and leave to marinate for up to an hour. Soak wooden skewers in water for the same amount of time before feeding shrimps onto the skewers. Place on a hot grill for 3-4 minutes per side until completely pink, remove and sprinkle with ¼ cup flaked unsweetened coconut and ½ teaspoon chopped cilantro.
CHILI COCONUT CEVICHE
To serve 4-6 people, combine 1 pound sushi-grade white firm fish such as sea bass or mahimahi cut into ½-inch cubes, ¾ cup fresh lime juice, ¼ cup fresh orange juice, one thinly sliced serrano chili, and ½ a thinly sliced red onion in a bowl and mix well. Refrigerate for at least 1½ hours before straining into a bowl and setting the leftover brine aside. Return fish mix to a bowl with ¼ cup brine, 1 cup coconut milk, ½ cup chopped cilantro and 1 teaspoon kosher salt, and marinate for 2 hours. Season, add diced mango or cantaloupe and ½ cup chopped fresh basil. Serve with lime wedges.