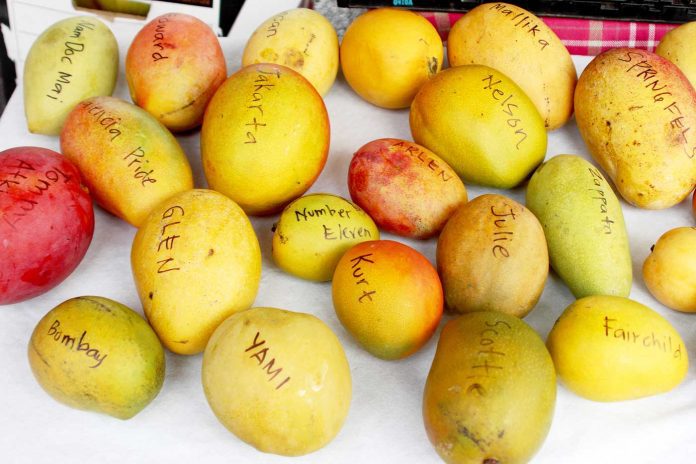 The mango joins a long list of fruits brought to the Caribbean by early maritime legends, this time Captain Cook, who brought it to Barbados from Brazil in the 18th century after it had made its way to South American from Asia.
Known as 'the king of fruits' in its native India, mangoes usually start adorning trees and hitting supermarket shelves in May or June, and their sizes, shapes and colors vary dramatically by species. There are hundreds of different mango cultivars, with friendly names such as Edward, Dot and Carrie, surprising seeing as they are of the same family as the not-so-friendly maiden plum.
Mango varieties most likely to be seen in Cayman are Nam Doc, Julie, Kent, Valencia Pride and Jakarta.
Nutrition
Per 100g, mango has 0.7g protein, 0.2g fat, 14.1g carbohydrate and 57 kcal. It is an excellent source of copper, folate and fiber and provides the powerful anti-oxidant qualities of beta-carotene, and large amounts of vitamin C, another antioxidant which also aids in the absorption of iron and production of collagen. Medicinally, the resinous gum and bark are used as an astringent.
How to Eat
Nothing compares to the taste, and even smell, of a ripe juicy mango. The fruit is versatile and is used in jams, desserts, juices and the much loved mango chutney which accompanies many Indian dishes. Of course, mango can be eaten raw, and its yellowish-orange flesh is very sweet and juicy when ripe – best eaten while in the sea!
Some people dip raw mango into a salty vinegar dipping sauce which contrasts perfectly with the juicy sweetness of the fruit.
Mango Dipping Sauce
The Cayman Islands Tourism Association has a simple dipping sauce recipe, perfect for at home dipping or transported in a Ziploc for beach-side mango feasts!
Ingredients
· 1/3 cup vinegar
· ½ spoon season salt
· ¼ tbsp. salt
· ¼ tbsp. black pepper
· 1 half ripe mango
Instructions
1. In a small bowl, pour vinegar
2. Add season salt, black pepper and salt
3. Stir mixture for one minute
4. Cut mango in small/medium pieces and dip in the sauce
(or soak for extra flavor!)
5. Enjoy!