Excitement is building for holiday lovers at this time of year. Canadian Thanksgiving has passed, Americans are gearing up for their own thanksgiving celebrations, and Christmas is just around the corner. There's a group of beings however, who are less enthused in the last quarter of the year – turkeys.
In the U.S. 46 million turkeys are eaten each Thanksgiving and 22 million at Christmas…and just to keep them on their toes during other months, 19 million turkeys are eaten at Easter.
Nutrients
Low in fat and high in protein, turkey is an excellent meat choice, which works out well for holiday season overindulgence on this wattled fowl.
According to the Ohio Poultry Association a skinless turkey breast has eight percent more protein than the same size serving of boneless skinless chicken breast or trimmed top loin beefsteak, and fewer calories than many lean red meats.
Here's how turkey stacks up when it comes to macronutrients: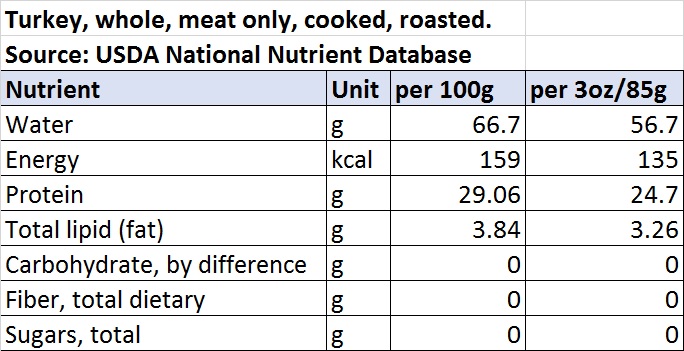 Does Turkey Really Make You Tired?
Many people will have heard that eating turkey makes you tired due to its tryptophan content. Tryptophan is an essential amino acid used by the body to make the B-vitamin niacin, vital for digestion, healthy nerves and skin, and production of the brain chemicals serotonin and melatonin. However, it looks like turkey gets some baseless blame for post-meal naps.
Turkey contains about the same amount of tryptophan as other meats, around 250-310 milligrams per 3 ounce serving, and many other foods also contain it including milk, cheese and beans. Instead of blaming the turkey for your lethargy take a look at the rest of your plate.
It's likely that the overload of carbs – think sweet potato, stuffing and bread – which usually accompanies a turkey feast is summoning the sandman due to the release of serotonin and blood sugar spikes and crashes. Your body is also working hard to digest an awful lot of food, and booze may also be contributing the feelings of tiredness.
Turkey Truths
• The turkey was called a 'bird of courage' by Benjamin Franklin in a letter to his daughter.
• The male turkey is called a tom.
• The female turkey is called a hen.
• White meat has fewer calories and less fat than dark meat.
• In 2013 the meat and poultry industry processed 239.4 million turkeys, with Minnesota, North Carolina and Arkansas being the top slaughtering States for this livestock.
• Each year the U.S. president grants a stay of execution for two lucky turkeys at Thanksgiving.
Leftovers for Lunch
It's likely your fridge will be bursting at the seams with leftovers after a holiday feast, unless you had a particularly ravenous crowd at your table. The internet has a plethora of ideas of what to do with the overspill, from turkey sandwiches to chili. Here is one chili, from a tasteofhome.com reader.

Black Bean n' Pumpkin Chili
Makes: 10 Servings (2.5 quarts)
Prep time: 20 mins
Cook: 4 hours
Image and recipe source: tasteofhome.com
INGREDIENTS
• 1 medium onion, chopped
• 1 medium sweet yellow pepper, chopped
• 2 tablespoons olive oil
• 3 garlic cloves, minced
• 3 cups chicken broth
• 2 cans (15 ounces each) black beans, rinsed and drained
• 2-1/2 cups cubed cooked turkey
• 1 can (15 ounces) solid-pack pumpkin
• 1 can (14-1/2 ounces) diced tomatoes, undrained
• 2 teaspoons dried parsley flakes
• 2 teaspoons chili powder
• 1-1/2 teaspoons dried oregano
• 1-1/2 teaspoons ground cumin
• 1/2 teaspoon salt
DIRECTIONS
In a large skillet, sauté the onion and yellow pepper in oil until tender. Add garlic; cook 1 minute longer. Transfer to a 5-qt. slow cooker; stir in the remaining ingredients. Cover and cook on low for 4-5 hours or until heated through. Yield: 10 servings
NUTRITIONAL FACTS
1 cup: 192 calories, 5g fat (1g saturated fat), 28mg cholesterol, 658mg sodium, 21g carbohydrate (5g sugars, 7g fiber), 16g protein.