Take charge of your health in your 20s
You may think you are too young in your 20s to be worried about major health scares, or too busy to schedule in preventative medical checks. But people of all ages should be proactive with their health, and taking care of yourself now can pay off tenfold in the future.
So, what should you look out for if you're a 'vicenarian'? And what medical checks should you make sure you are booked in for? Here's an overview of some important issues.
Watch your weight
This applies to all ages as being overweight can put you at risk for developing diseases including diabetes, heart disease, and certain cancers. Adopting a healthy lifestyle, including diet and exercise, in your younger years can set you up for decades to come. Body Mass Index is one way of monitoring your body fatness, and can be calculated using the below NHS BMI calculator. You should talk to your health practitioner is you are concerned about your BMI as the result, whether low or high, is not always clear cut.
Regardless of BMI, waist circumference is also a good  way of seeing if you are carrying too much fat around your stomach, which can raise your risk of heart disease, type 2 diabetes and stroke.
To measure your waist, find the bottom of your ribs and the top of your hips. Wrap a tape measure around your waist, midway between these points and breathe out naturally before taking the measurement. Talk to your health practitioner if the measurement is 94cm (37ins) or more for men, or 80cm (31.5ins) or more for women
as you may be advised to lose some weight for the good of your health. Remember that both BMI and waist circumference measurements are screening tools and are not strictly measurements of body fatness or the health of individuals.
Under pressure
Doctors' visits should include blood pressure checks. High blood pressure (hypertension) may have no symptoms, but it may cause serious problems, such as heart disease, stroke, and kidney failure. Normal blood pressure is 120/80 mm Hg, and there are different categories of blood pressure for numbers higher and lower than these. Visit the American Heart Association for more information on what your specific blood pressure reading means.
Keep cholesterol in check
Add this check on to a doctor's appointment at least once every 4 – 6 years so you can keep on top of your numbers. High cholesterol, and the associated possible accumulation of deposits in your artery walls, can start as early as your 20s and can cause chest pain and other symptoms of coronary artery disease, heart attack and stroke. Your doctor will look at your total cholesterol as well as your levels of LDL and HDL cholesterol, triglycerides and other risk factors to decipher whether your level puts you at risk. The American Heart Association explains the different types of cholesterol and their effect on the body.
Below the belt 
Women should have a pelvic exam and pap smear every three years from age 21 to age 65, and sometimes more frequently if directed by your doctor. These screenings, which test for cervical cancer, can protect you from cancer and other diseases and are extremely important. Talk to your doctor about when to screen.
Get the 411 on STIs
If you are sexually active get yourself tested for sexually transmitted infection. According to the Centers for Disease Control, more than half of the approximately 20 million new cases of STIs that occur in the U.S. each year are in 15- to 24-year-olds. As well as other sexually transmitted infections, such as chlamydia, get yourself checked for Human papillomavirus (HPV), the most common sexually transmitted infection (STI). The CDC says that 79 million Americans, most in their late teens and early 20s, are infected with HPV, which can cause other health problems such as genital warts and cancer. There is a vaccine available which is of greatest benefit if administered before the onset of sexual activity, with a target group starting at 11 years old, so talk to your doctor for more information if you are a young person or have children of this age.
Cop a feel
While the majority of breast cancer cases occur in women over 40, unfortunately the disease can and does happen in younger women too. Get into the habit of checking your breasts monthly in your 20s, as early detection and prompt treatment significantly increases survival rates if cancer if found. Cleveland Clinic advises women ages 20-39 to also have a clinical breast exam every three years. If you have a family history of breast cancer talk to your doctor as to when to begin screening and what the frequency should be.
For men get a testicular exam annually after age 20 as this disease occurs most often in men ages 20-39. Self-tests can also be done (insert link) but as these have not been shown to have a great benefit so doctors checks are still a must.
Dental and vision checks
Visit the dentist once or twice a year for a checkup and cleaning. Many insurance plans on-island cover these visits. Also keep up to date with vision checks if you have vision problems. Our vision prescription can change for many reasons and keeping up to date will mean your optometrist can monitor and treat these changes.
Top to toe skin checks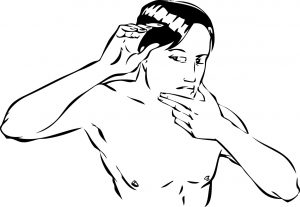 Our skin needs special attention, even during our 20s. As well as proactively using sunscreen and skin coverings, seeking shade when the sun is at its strongest, and conducting self-examinations visit a dermatologist annually to check for skin cancer. They can take photos of suspect lesions in order to keep on top or your skin health and can remove and test anything that may be of concern.