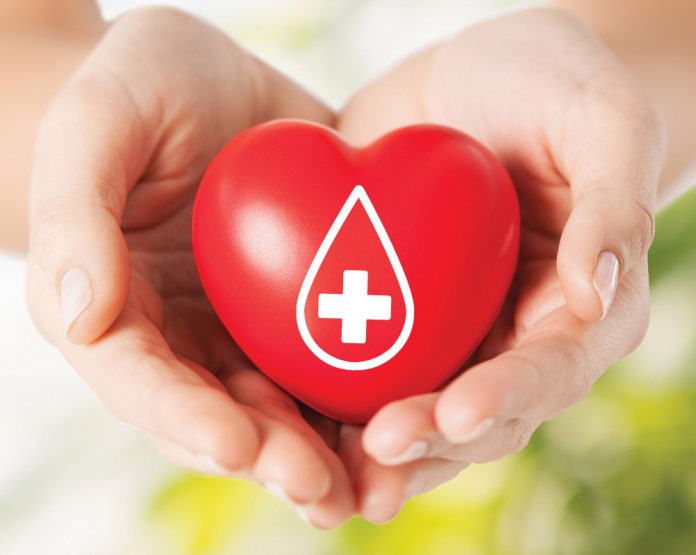 Giving the gift of life is easier than you think. Donating blood or signing up to a bone marrow registry will only take minutes of your time but has the potential to make a substantial, sometimes lifesaving, difference to the lives of others.
Blood donations
Donating blood is a simple process, yet the importance of it to others can be life-changing. Cancer patients, sickle cell patients, surgical patients, accident victims, orthopaedic and obstetric patients are just a few who benefit from donated blood.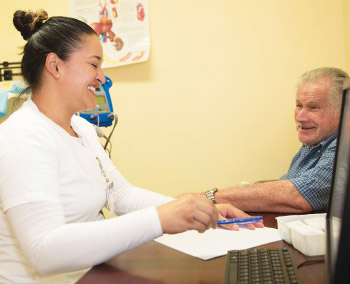 The Health Services Authority Blood Bank at the Cayman Islands Hospital collects more than 1,000 units of blood per year. That is more than 125 gallons, and as Cayman's medical community and healthcare offerings grow, so does the need for more blood.
Criteria
There are some criteria for the public who wish to donate, which are in-line with international standards.
Donors must be at least 18, or 17 with parental consent.
Weigh more than 110lbs.
Be fit and in good health.
You will find out for sure if you are eligible to donate on the day after a mini physical exam and health history questionnaire and tests for haemoglobin and blood pressure, which aim to protect both the donor and future recipients of the blood.
Certain medical conditions, and previous or present residence in health risk areas, such as malaria endemic areas, may exclude potential donors. Visit www.bloodbank.ky to find out more.
What to know
The HSA recommends donors have regular meals and drink at least 16 oz of fluids 30 minutes before donation to help prevent fainting. After donation, the donor will be given some fluids to quickly replace the lost blood volume and be told to rest for about 15 minutes under observation.
The donor will also be advised to continuously drink fluids throughout the rest of day, forego any strenuous activities, such as jogging or weightlifting, not smoke or drink alcohol for a few hours after donating and not to lift heavy items using the affected arm.
Location
The HSA Blood Bank is located on the second floor of the Cayman Islands Hospital, in front of the Paediatric ward. Opening hours are Monday to Friday, 7am to 6:30pm, and Saturday 9am to 5:30pm.
For more information call 244-2674 or visit www.bloodbank.ky. Appointments can also be scheduled online, which reduces possible waiting times.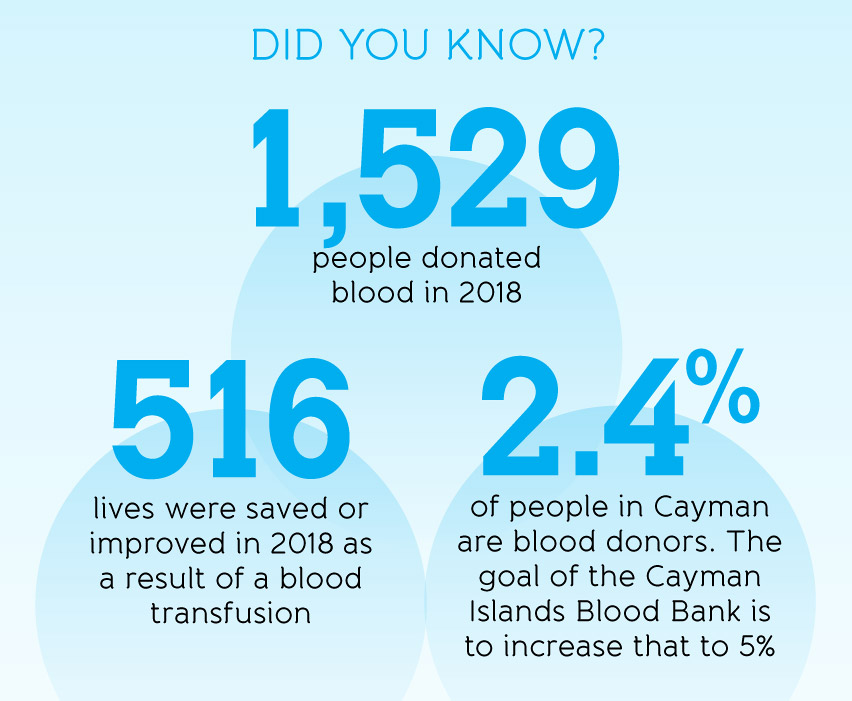 Bone Marrow
Bone marrow and stem cell transplants are often necessary for leukemia and sickle cell anaemia patients, as well as those with other blood disorders.
There are two methods of donating bone marrow and stem cells for these purposes. Donors either donate peripheral blood stem cells by receiving a treatment to stimulate the production of these stem cells in their body. They are then harvested by a non-surgical procedure to draw blood from the donor's arm, and the blood is then passed through a machine to remove the specific white cells and return the rest of the blood to the donor's body.
For bone marrow transplants, donors undergo a minor surgical procedure on their pelvic bone under anaesthesia, where liquid marrow is removed with a needle. The marrow replenishes in 4 to 6 weeks.
The Cayman Islands Cancer Society is working to formalise a partnership with a world-wide registry to increase donorship of under-represented people of Afro-Caribbean ancestry.
Once this partnership is in place, international donor registration will be available on-island, providing the Cayman community with an opportunity to help save lives.
The diverse mix of ethnicities and genetic makeup in the Caribbean region makes it difficult for those in need of a donor to find a match. More people signing up to the registry will increase the chances of a match as matches are more likely in those who share the same ethnic background or ancestry.
Joining the local registry involves filling in a registration form and having a cotton-tipped swab of cheek cells taken. The process takes 10 minutes and could change or save someone's life in our region in the future. People aged between 18 and 60 and in good health can register.
The Cayman Islands Cancer Society covers the $75 cost of registration although welcomes donors to cover the cost if they are financially able. The registration cost covers the kit, postage, lab work and addition of results to the worldwide registry.
In the event that donors are matched with an individual in need of a marrow, stem cell transplant or product therapy, more testing will be done and consent needed to proceed.
Community donor drives offer a place to find out more and to register, and companies, churches, organisations or other groups will be able to arrange for drives to be set up at their facility.
For more information contact the Cayman Islands Cancer Society on 949-7618 or email [email protected].
Organ Donation
Legislation has paved the way for organ donation and transplants in the Cayman Islands.
The Human Tissue Transplant Law was passed in 2013 and came into effect on 31 July 2018 to regulate the donation of organs and human tissue for medical purposes.
The Human Tissue Transplant Council (HTTC) is now operational, having had its inaugural meeting in September 2019.
The council is chaired by local attorney Gina Berry, and also includes Dr. Diane Hislop-Chestnut, Reverend Nicholas Sykes, the Commissioner of Police Derek Byrne and Robert Hamaty, a heart transplant recipient.
Working through the Ministry of Health, among the council's tasks is creating a register that not only allows organs and tissues donated to be kept in Cayman, but which would also allow the British Overseas Territory to become part of an international donation network for human tissue.
"Currently, we are developing the processes in establishing not only the network, but also the registry and licenses for healthcare facilities to be fully equipped and ready to perform transplants," said Berry.
The Ministry expects to roll out the programme by the end of the year.
The HTTC and the Ministry have decided to start with kidney transplant procedures and will move on to other tissues once the council has established all necessary parameters.
"Not only are kidney transplants the most common organ transplant surgeries performed globally, but also, this should provide an alternative for the many dialysis patients living in the Cayman Islands," said Berry.
Once the framework and all other procedures are in place, the council will inform the public with more information on how to register to become a tissue donor.